CGI – THE COFFEE GROUNDS INDEX
Multimedia, Performance auf dem Jemaa el-Fnaa vor der Bank al Maghrib
Kuratorin: Hicham Khalidi, Khalid Tamer.
Der Coffee Grounds Index – CGI verweist auf Walter Benjamins Zitat, nur jene Philosophie, die in der Lage sei, die Möglichkeit der Weissagung aus dem Kaffeesatz einzubeziehen und zu explizieren, könne eine wahre sein. The Coffee Grounds Index ist Antwort und Reaktion auf die unzähligen Indizes, die eine Einteilung der Welt versuchen, indem sie sie in handliche Hierarchien statistischer Raster sortieren. Für die 5. Marrakech Biennale schlägt das Kollektiv YOVO! YOVO! einen gegenläufigen Blick auf die Welt vor, der auf individueller Eingebung und persönlicher Vorstellungskraft beruht. Zugleich wird den Zeichen des visuellen Bildes und der Ahnung ihr unverzichtbarer Platz in der Erkenntnis eingeräumt.
Am 27. Februar 2014 versammeln sich sieben Personen auf dem zentralen Marktplatz Jemaa el-Fnaa, die üblicherweise als Kartenleser, mobile Kaffeeverkäufer und Touristenführer auf diesem Platz arbeiten. Sie formen einen Kreis (halqa) und beginnen mit der Zubereitung des würzigen Berberkaffees in 188 Gläsern. Die Glasbodenrücken der Gläser weisen die Flaggen der 188 deklarierten Staaten dieser Welt auf. Diese werden an die Zuhörerschaft, die sich um den inneren Kreis formiert hat, verteilt und schließlich als geleertes Glas mit dem zurückbleibenden Kaffeesatz den CGI-Lesern übergeben.
Der Dramaturgie des Kreises folgend, beginnen die Kaffeesatzleser schließlich den Coffee Grounds Index dem Publikum vorzutragen. Der CGI beschreibt die zukünftige Entwicklung aller Staaten des Erdballs.
An den darauffolgenden zehn Tagen tritt einer von ihnen, der Touristenführer Mohammed Jadir, am Ort des Geschehens auf, um über jenes Ereignis des CGI und seiner globalen Prognose zu berichten. Die öffentliche Performance wandelt sich zu einem Gerücht, das in den Straßen Marrakechs verhallt.
Vorhersage: 27. Februar 2014 17 – 22 Uhr
Berichterstattung: 28. Februar bis 9. März 18 – 19 Uhr
Multimedia, Performance on the Jemaa el-Fnaa before the Bank al Maghrib
Curator: Hicham Khalidi, Khalid Tamer.
The Coffee Grounds Index (CGI) is a response to the countless indices predicated on a flat overview of the world used to sort it into handy hierarchies. YOVO! YOVO! proposes a contrasting vision of the world that is imaginative and which relies on predictive perception rather than on striated reality. Drawing on Walter Benjamin's proposition that a philosophy which does not include and cannot explain the possibility of prophecy by means of coffee grounds, cannot be a true philosophy. For this project, persons working on Jamaa El Fna and in the touristic sector interpret the forms of coffee grounds. They form a halqa.
On February 27 2014 their results are pronounced aloud, announcing the future of all declared states of the world. A painter from the place worked on round flags on the bottom of the glasses. Once the glasses turned, they suppose a variable rearrangement of indications. Continuing the tradition of Moroccan storytellers on Jamaa El Fna square, the reading out of the CGI is a singular, unrepeatable performance. Over the following ten days a guide returns to the square each day to report CGI's global prognosis, thereby catalysing an act of speech into a decentralized rumor. This site-specific intervention for the 5th Marrakech Biennial advances in areas that remain undefined to us, turning out mystery and the absurd, and revealing their voids. It is from these areas that the new can arise and adventure becomes possible.
pronouncement: 27th february 2014 5pm – 22pm
reporting: 28th february to 9th march 6pm – 7pm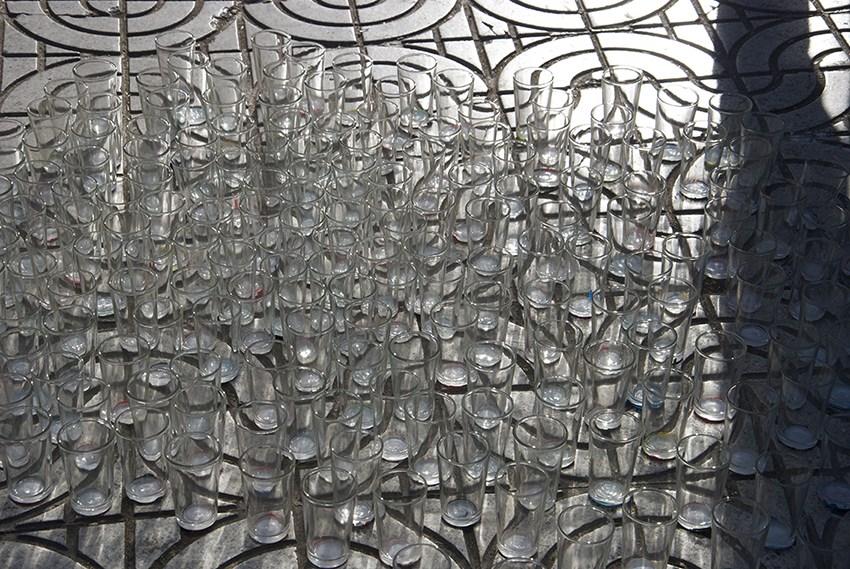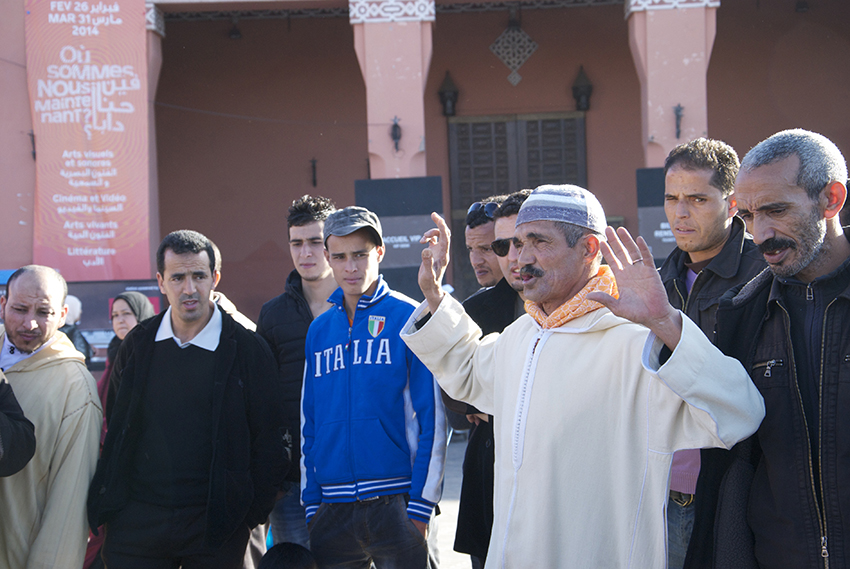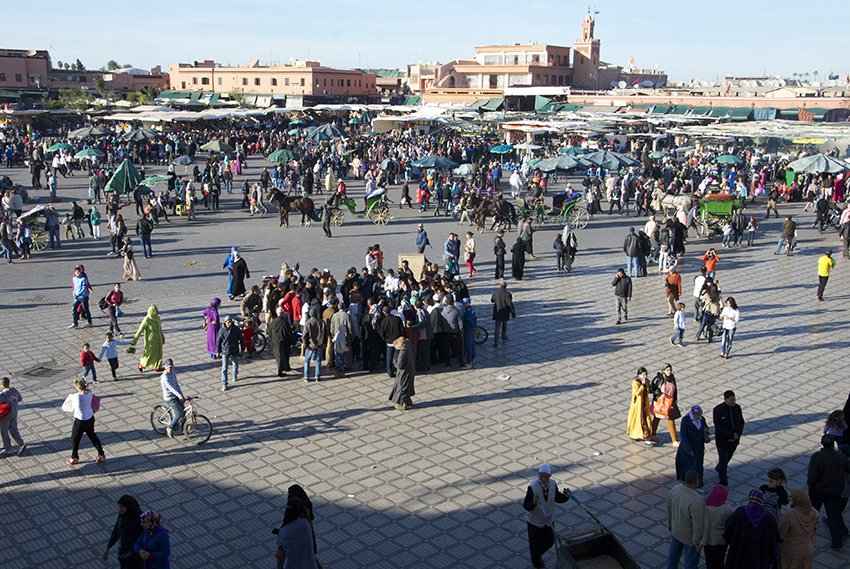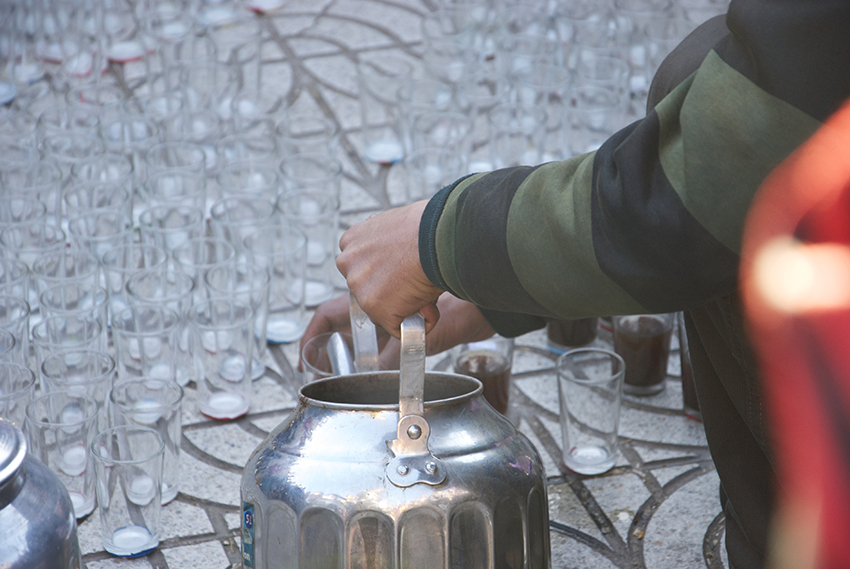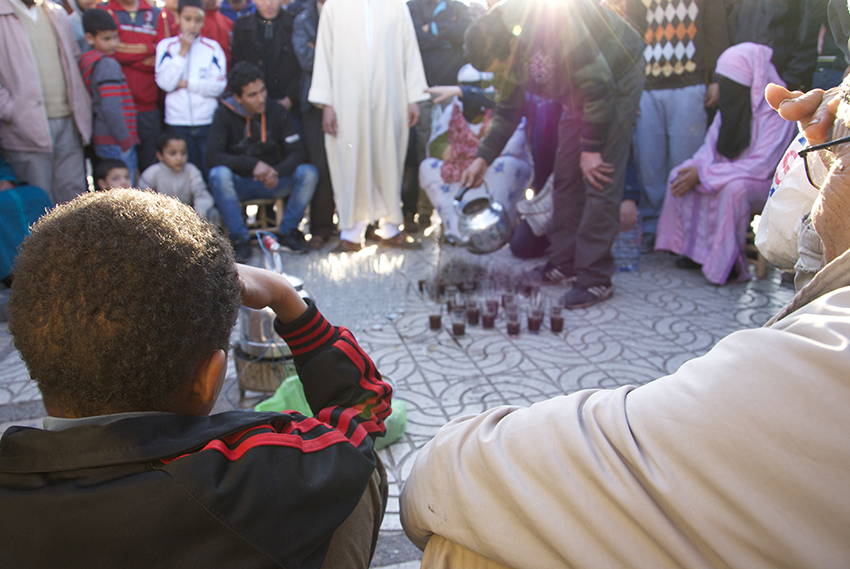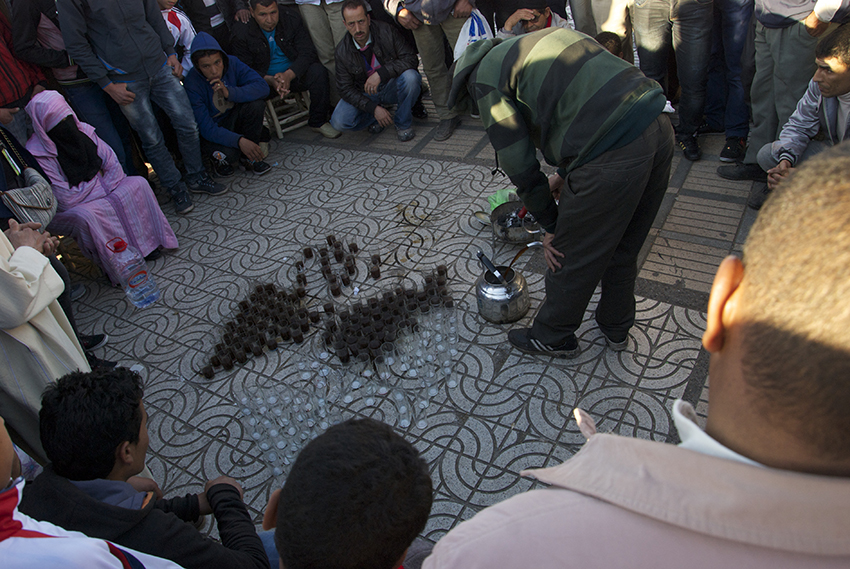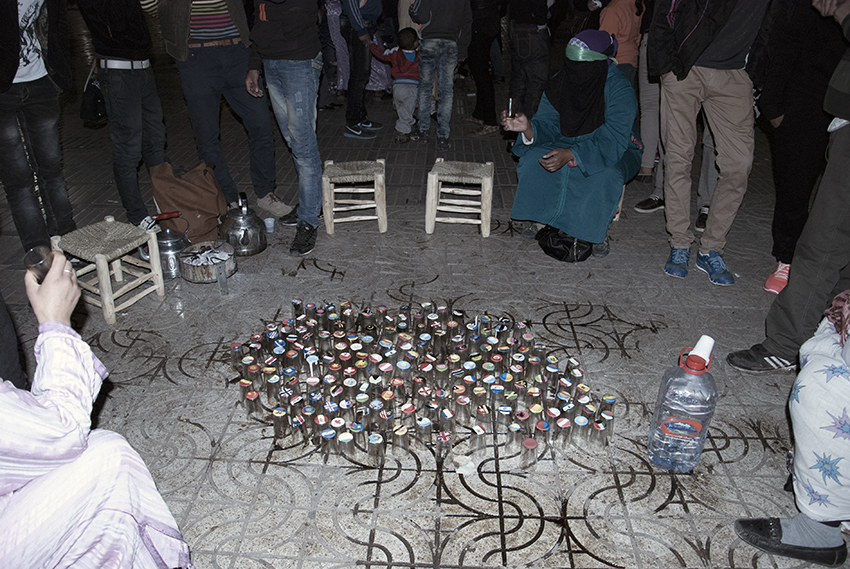 15cgimartinamahlknecht_11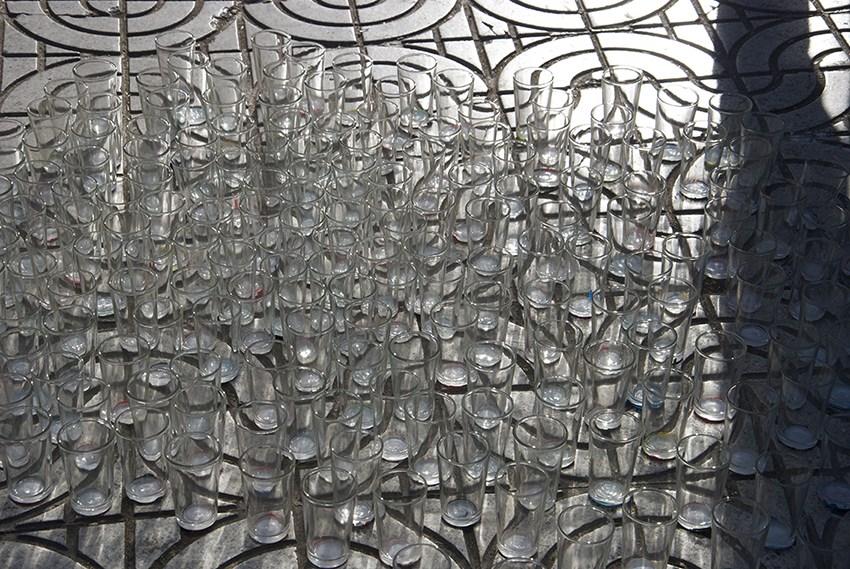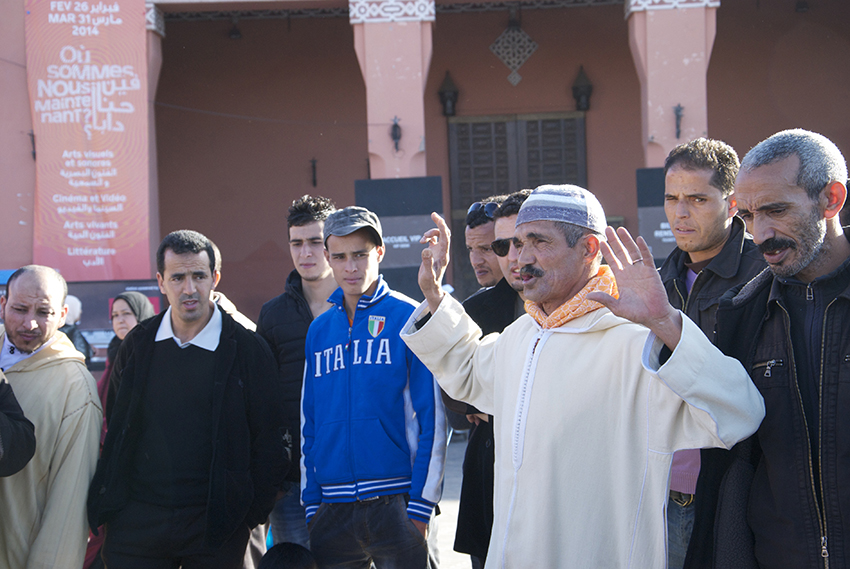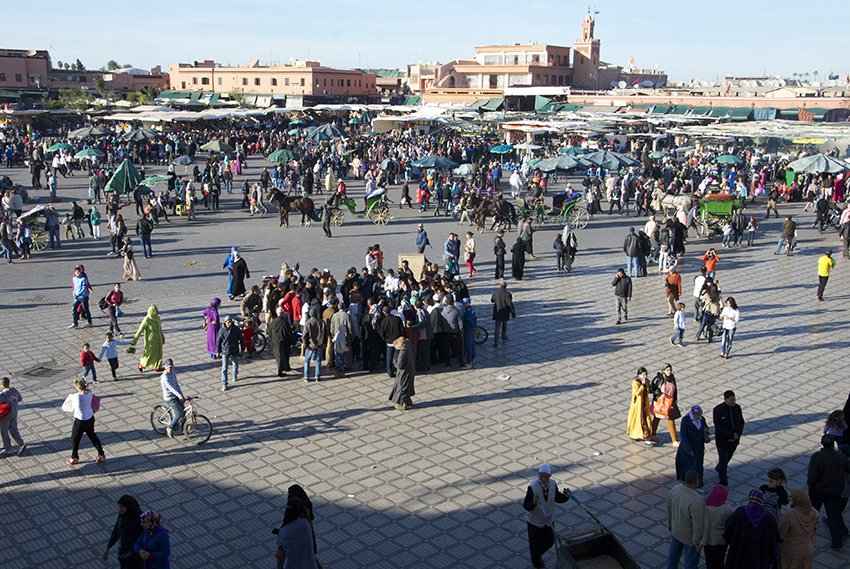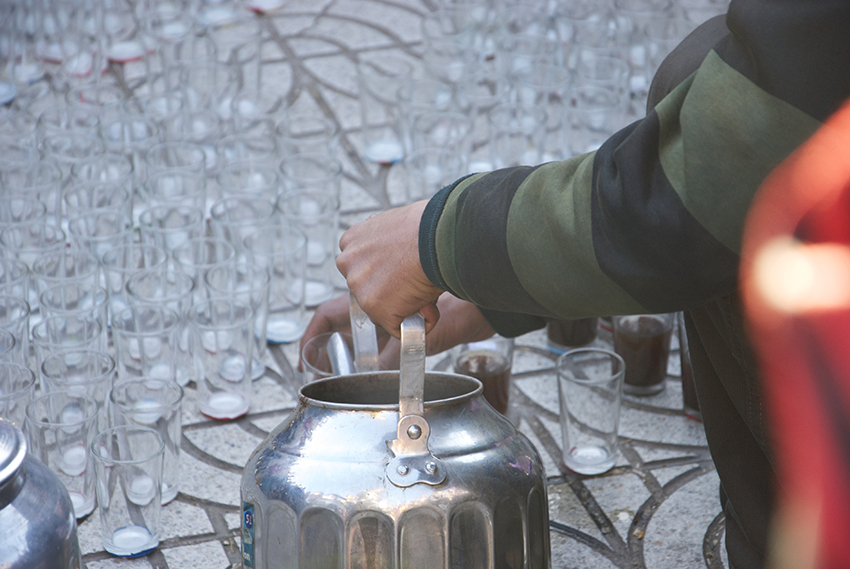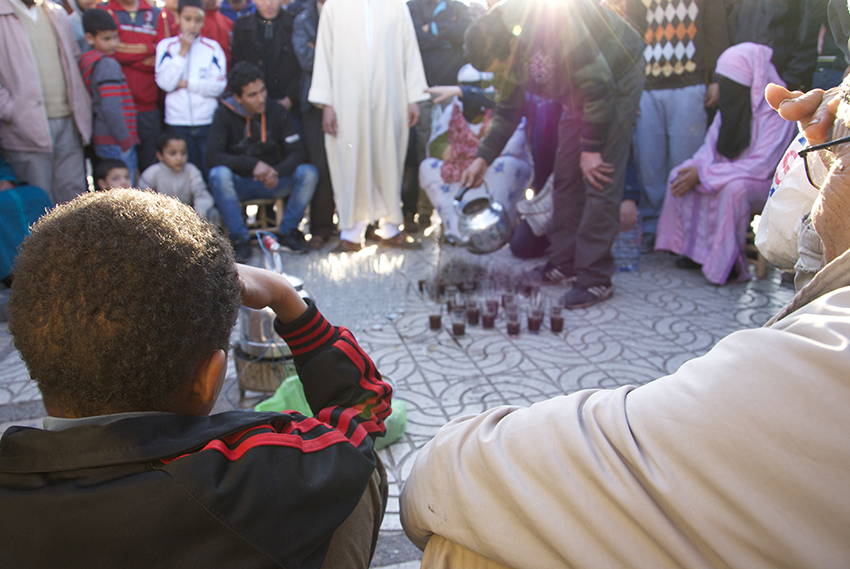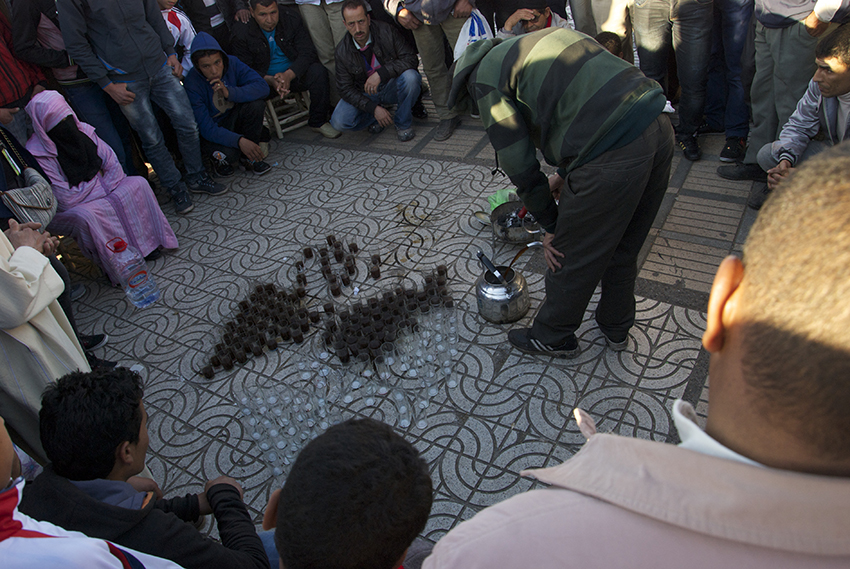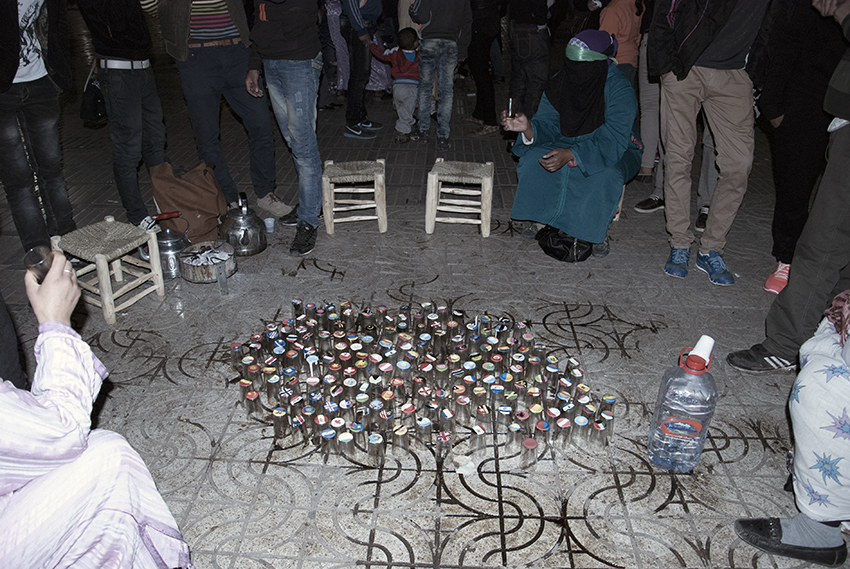 © Fotos: YOVO! YOVO!
KATALOG MARRAKECH BIENNALE
DIETRO LE QUINTE