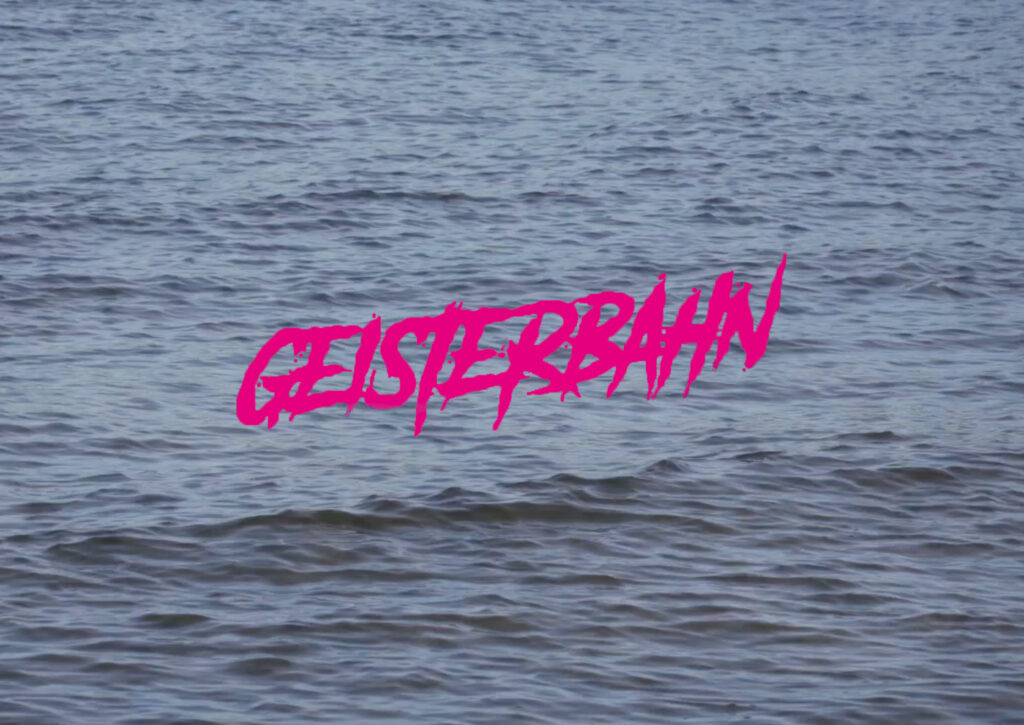 GEISTERBAHN
Ausstellung Studio Peragine
Kollaboration mit Jonas Woltemate, Granderath&Oliveira, Katharina Duve, Moritz Frischkorn
Unsere Gegenwart wird von vielfältigen, miteinander verknüpften Krisen bestimmt. Ein zentrales Merkmal dieser komplexen Krisenlage ist die Tatsache, dass sie in einem privilegierten, westlichen Alltag noch nicht oder nur teilweise erfahrbar wird. Im Angesicht einer andauernden, medial vermittelten Bedrohungslage reagieren wir bisweilen mit Verdrängung auf ein Weltgeschehen, für das wir uns mitverantwortlich fühlen.
GEISTERBAHN ist eine simulierte Begegnung mit den (bösen) Geistern der Gegenwart. In Form eines offenen Parcours macht sie das Gefühl des Gespenstischen erfahrbar, das uns heute im Angesicht multipler Krisen heimsucht. Dafür werden künstlerische Arbeiten präsentiert, die uns mit folgenden Fragen konfrontieren: Welche Gespenster umgeben uns? Wie können wir mit den (Krisen-)Geistern unserer Zeit Kontakt aufnehmen? Und können diese, sofern wir ihre Koexistenz akzeptieren, zu Verbündeten werden?
Für GEISTERBAHN haben die Künstler:innen Katharina Duve, TÒ SU (Martina Mahlknecht & Martin Prinoth) und Jonas Woltemate eigene Arbeiten entwickelt oder weiterentwickelt. Granderath&Oliveira präsentieren als Gäste ihre Arbeit ISO (TO GO). Zudem wird die Ausstellung durch einen Text von Moritz Frischkorn kontextualisiert.
GEISTERBAHN wird in künstlerischer Gastgeberinnenschaft durch Alice Peragine begleitet.
exhibition Studio Peragine
Collaboration with Jonas Woltemate, Granderath&Oliveira, Katharina Duve, Moritz Frischkorn
Our present is determined by a variety of interlinked crises. A central feature of this complex crisis situation is the fact that it is not yet, or only partially, experienced in a privileged, western everyday life. In the face of an ongoing threat communicated by the media, we sometimes react by suppressing world events for which we feel jointly responsible.
GEISTERBAHN is a simulated encounter with the (evil) spirits of the present. In the form of an open parcours it is possible to experience the ghostly feeling that haunts us today in the face of multiple crises. For this purpose a wide range of artistic works will be presented, that confronts us with the following questions: What kind of ghosts surround us? How can we get in touch with the (crisis) ghosts of our time? And if we accept their coexistence, can these become allies?
The artists Katharina Duve, TÒ SU (Martina Mahlknecht & Martin Prinoth) and Jonas Woltemate have developed or further developed their own works for GEISTERBAHN. Granderath&Oliveira present their work ISO (TO GO) as guests. In addition the exhibition is contextualized by a text by Moritz Frischkorn.
GEISTERBAHN will be accompanied by Alice Peragine as artistic hostess.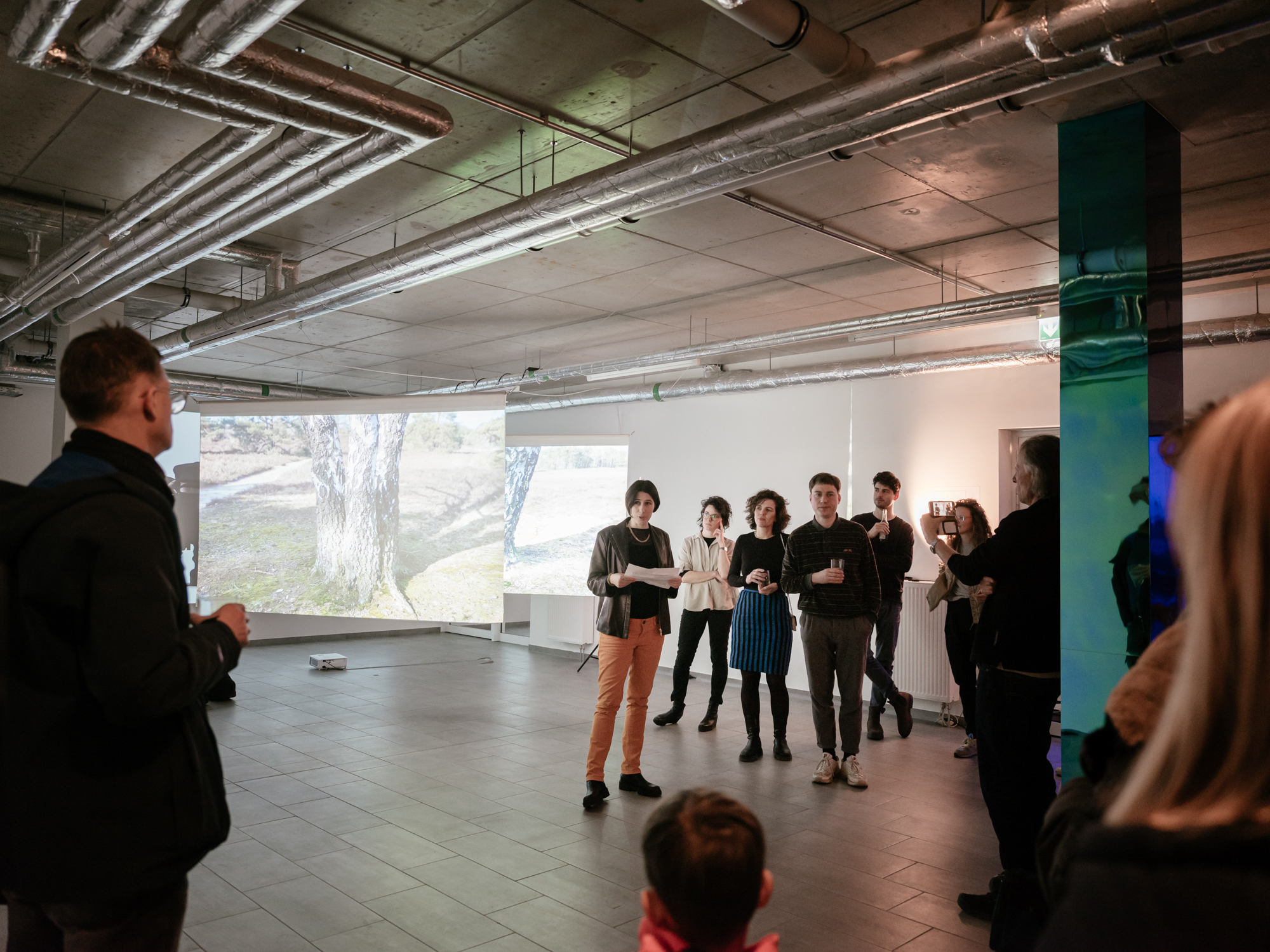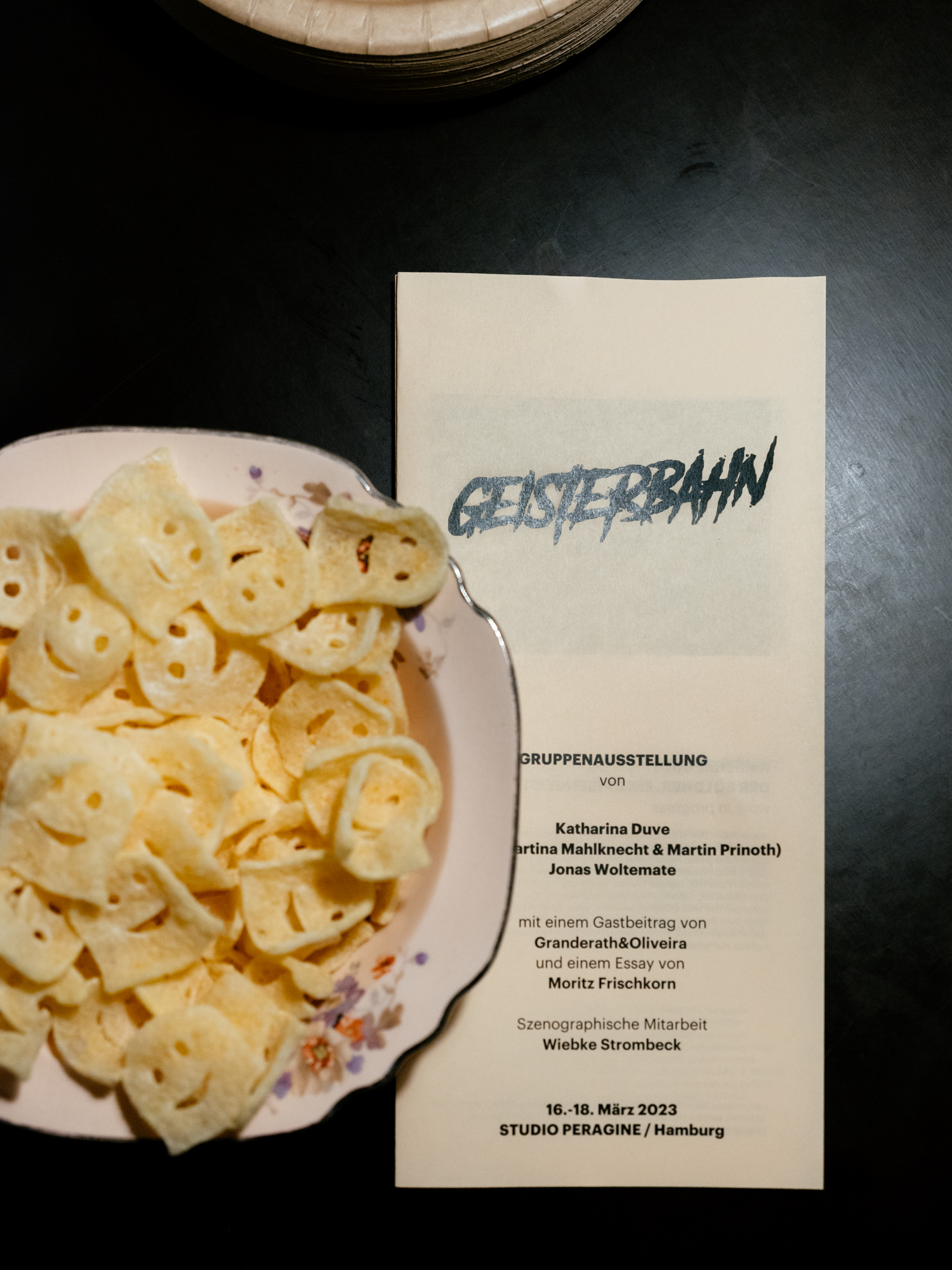 Geisterbahn_opening_web-3
Geisterbahn_opening_web-1
Geisterbahn_opening_web-4
Geisterbahn_opening_web-13
Geisterbahn_opening_web-10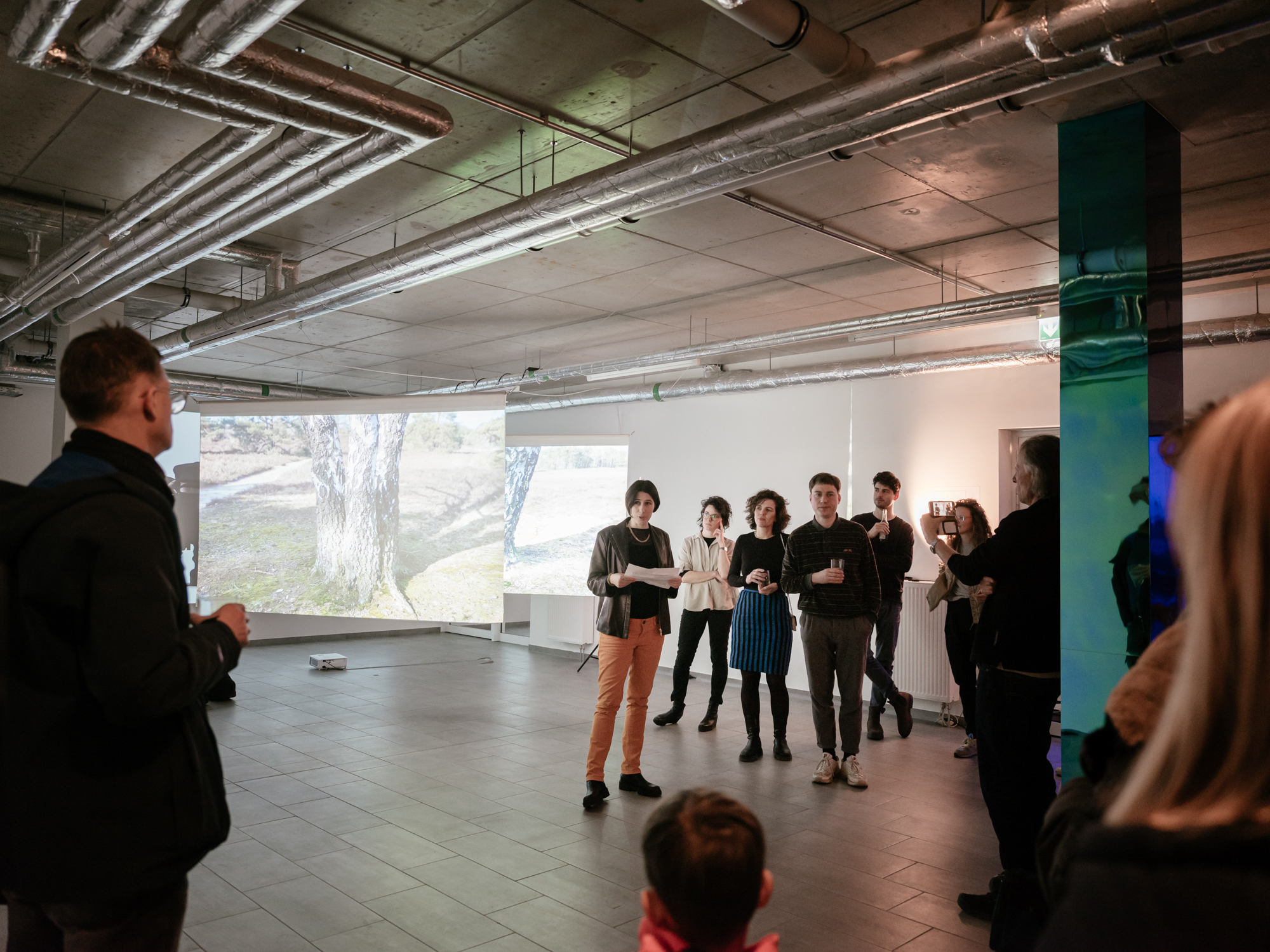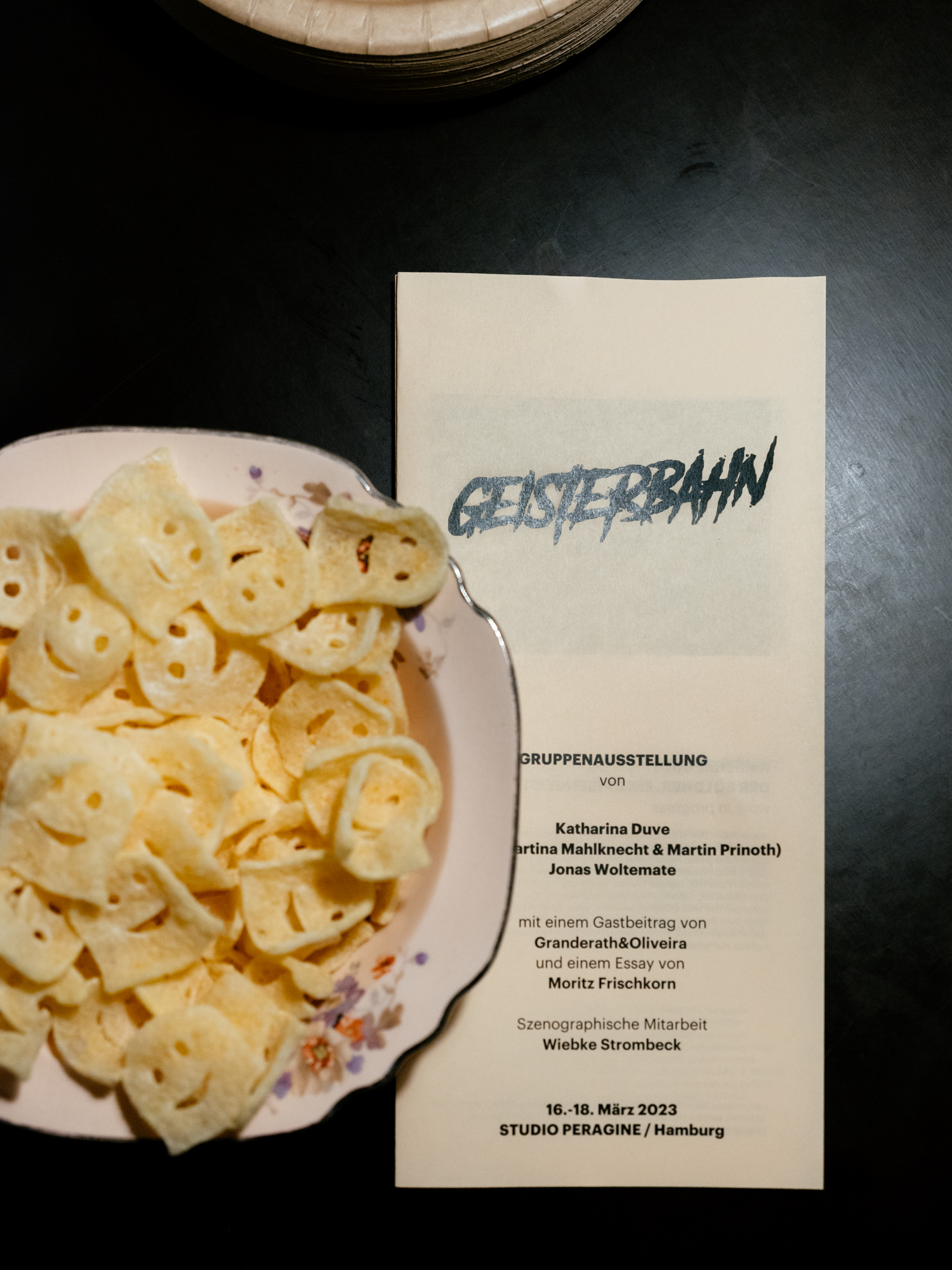 © Fotos: Philipp Meuser
TERMINE

16.03.2023: 18:00-22:00 Uhr (18:00 Uhr: Vernissage)
17.03.2023: 16:00-22:00 Uhr (20:00 Uhr: Textlesung Moritz Frischkorn)
18.03.2023: 14:00-20:00 Uhr
STUDIO PERAGINE / Versmannstr. 16 (Am Versmannkai) / Hamburg
Gefördert vom Fonds Darstellende Künste aus Mitteln der Beauftragten der
Bundesregierung für Kultur und Medien im Rahmen von NEUSTART KULTUR
BOOKLET